Cities in the US, Europe and LATAM
Customer retention over 18 years
Of clients refer us to their networks
Designed for SMBs of all sizes to run smoothly, no matter what.
Private Equity and Venture Capital
Ensure your businesses' tech works seamlessly with consistently excellent standards.
Mid-Size Businesses (41-300 employees)
We augment lean IT teams, offering big company IT support, with a competitive cost
Small Business (20-40 employees)
Gain the robust expertise of a large IT team at a fraction of the cost.
We come with all the tools needed and a proven process to deliver outstanding results.
We can do it all or support your IT team.
 Over 18 years bringing established processes, expertise, and frameworks to organizations of all types.
Supported by friendly, collaborative and expert customer support.
Security, Monitoring & Prevention
Monitoring
Patch Management
Automation
Backup & DR
Security Stack
Compliance & Consistency
Standards Library
Compliance
Alignment reviews
Happy Service Desk
Remote Helpdesk
User Requests and Support
Strategic Planning with your Virtual CIO
Impact Assessment
Business Impact of Technology
Strategic Roadmap
We continuously assess every aspect of your IT to ensure it is in the best shape for helping you to archive your goals in your core business.
300 questions, 30 categories, 6 sections
Each month we run assessments, each quarter we deliver an Impact Analysis to surface the most pressing issues and all the information you need to make decisions to best use IT as a tool to grow.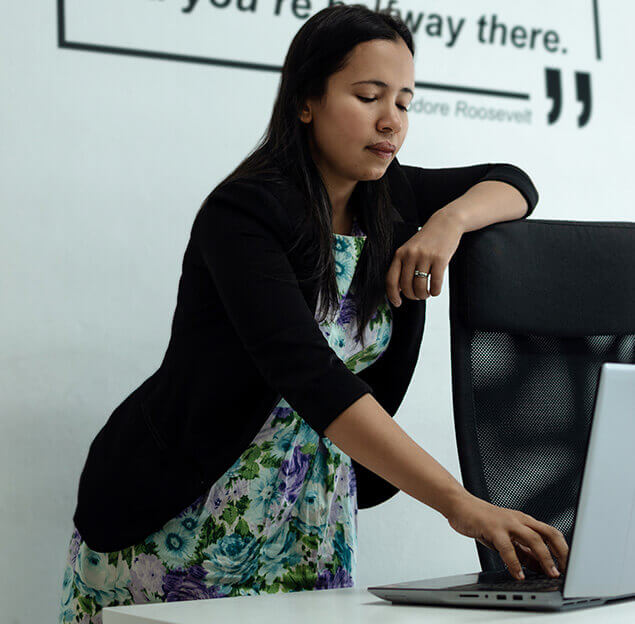 Everything is included in one monthly fee that feels comfortable for your business. 
IT Protection & Support Features
Unlimited Remote Assistance
Unlimited Remote Assistance
Get common IT questions answered in real-time, when it matters most. Support has no limits; but common inquiries include troubleshooting for printing, email, phone, document issues, slow devices, and custom software configurations. We'll take care of time-sensitive tech issues so you can focus on everything else.
Monthly Reports
Monthly Reports
Custom monthly report providing detailed visibility into the status of your tech assets (e.g. computers, servers, cell phones) to ensure everything is running properly (e.g. antivirus, hard drive, memory, OS services etc.).
Device Monitoring and Response
Device Monitoring and Response
Software installed on each device will automatically flag device errors so that we can get it operating at full capacity quickly. Top things tracked: hard drive, memory, (what else?)
Service Desk with Standard SLA
Service Desk with Standard SLA
Every tech issue opens a track-able ticket so you can check the status of the case and chat with the agent.
Annual Business Review
Annual Business Review
Custom report reviewing infrastructure and providing recommendations for improvements to increase service reliability. Common improvements include server optimization, network equipment, electrical equipment, and security considerations.
OS and Office Support
OS and Office Support
Support with day-to-day computer issues. From Office program crashes, to corrupted OS files, and even typos in an excel formula, your agents have you covered in real-time.
Email Platform Support
Email Platform Support
Ever ask any of the following? "My emails aren't getting out?" "Why do emails take so long to get to me?" "I'm going on vacation can you add an automatic message for me, I forget to do it in the office?" 'How do I create an email address for a new hire?" "How do I change my password?" "How do I disable an email account because an employee has left the company?" "Can you help me configure email on my phone or computer?" We've got your covered.
Device Inventory
Device Inventory
An inventory of all tech assets both for insurance purposes and to allocate resources effectively between employees. Simple but helpful when you need it.
Automated Maintenance
Automated Maintenance
A series of daily safety checks (without interrupting the user) to identify device errors, performance capabilities, and optimization opportunities. We're immediately notified of any errors and get it resolved before the user even has to open a ticket.
Antivirus
Antivirus
A Top 5 Antivirus Software to protect and prevent the most common threats.
Web Content Filtering
Web Content Filtering
Filter inappropriate or nonproductive sites with smart web content filtering.
Patch Management
Patch Management
All major attacks involve a form of missing patch implementation. Just as important as antivirus software, we'll ensure your devices are consistently updated to the latest patch versions to guard against malicious attacks that can result in downtime, data exposure, and data loss.
Password Protection
Password Protection
An encrypted vault with strict security permissions to store all usernames and passwords for every account & device in one secured location. No more passwords in a master excel or in plain sight. A locked vault that only one/few people have access to increases overall network safety and efficiency.
Business Continuity Security
Cloud Backup
Cloud Backup
Every device is backed up daily, with a version retention period of 28 days. For full visibility, we'll send daily reports confirming backup completion. Companies with a large amount of data changing frequently can be backed up twice per day. Servers can be restored using back up information in under 24 hours.
Endpoints Advanced Threat Security (Sandbox Analyzer)
Endpoints Advanced Threat Security (Sandbox Analyzer)
Suspicious files are sent to your "Sandbox" quarantine area outside of the network, to executer the potentially malicious software before it enters your network. This is a security measure that allows suspicious files to be tested before they're opened on network computers.
Emails Advanced Threats Protection for Office 365
Emails Advanced Threats Protection for Office 365
Email has become the major vector of attack. Firewalls and antivirus software alone don't block all email attacks. Advanced Threat Protection (ATP) blocks the most common email threats: phishing (e.g. someone pretending to be your bank or another trusted source) and malicious links or attachments. ATP keeps risky emails out of your inbox.
Security Awareness Training
Security Awareness Training
Live webinar and Q&A providing an annual overview of top security threats and best practices for protecting against them.
Two Factor Authentication for Office 365
Two Factor Authentication for Office 365
Layered security enhancement to make it more difficult for attackers to gain access to your network.
We fill in the gaps in your IT so you have a system that helps you achieve your business goals.
 IT Outsourcing Certifications
American Contemporary Business Practice, Management Certifiction

---

ITIL V3 (Third version Information Technology Infrastructure Library)

---

Microsoft Certified Professional (MCP) Windows Server 2016

---

Microsoft Certified Professional (MCP) Office 365

---

Microsoft Certified Technology Specialist (MCTS)

---

Leviton Network Solution Certification

---

Project Management Professional

---

Ubiquiti UNWA v2

---

Meraki 360

---

Acronis Cloud Tech Associate (Backup, DR and Protect)

---